High resistance roll-extruded tanks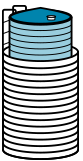 Designed for complex applications, highly corrosive products and large volumes
Roll-extruded tanks : sensitive storage
Safety as a priority
Our vertical tanks are manufactured by roll-extrusion and meet the storage requirements of many customers within the chemical and para-chemical, pharmaceutical, water treatment and nuclear industries.
They have been designed for the storage of hazardous materials, concentrated acids and alkalines, acidic and alkaline effluents in temperature ranges of -45 °C to +90 °C.
Roll-extruded tanks
Relevant industrial sectors
Chemistry, petrochemical, pharmaceutical, cosmetic, perfumery, shipbuilding, food processing, water treatment, air treatment, cement industry, metallurgy, nuclear, surface treatment, distribution of chemicals, manufacturing of detergents, laundry, dry cleaners, paper industry, etc.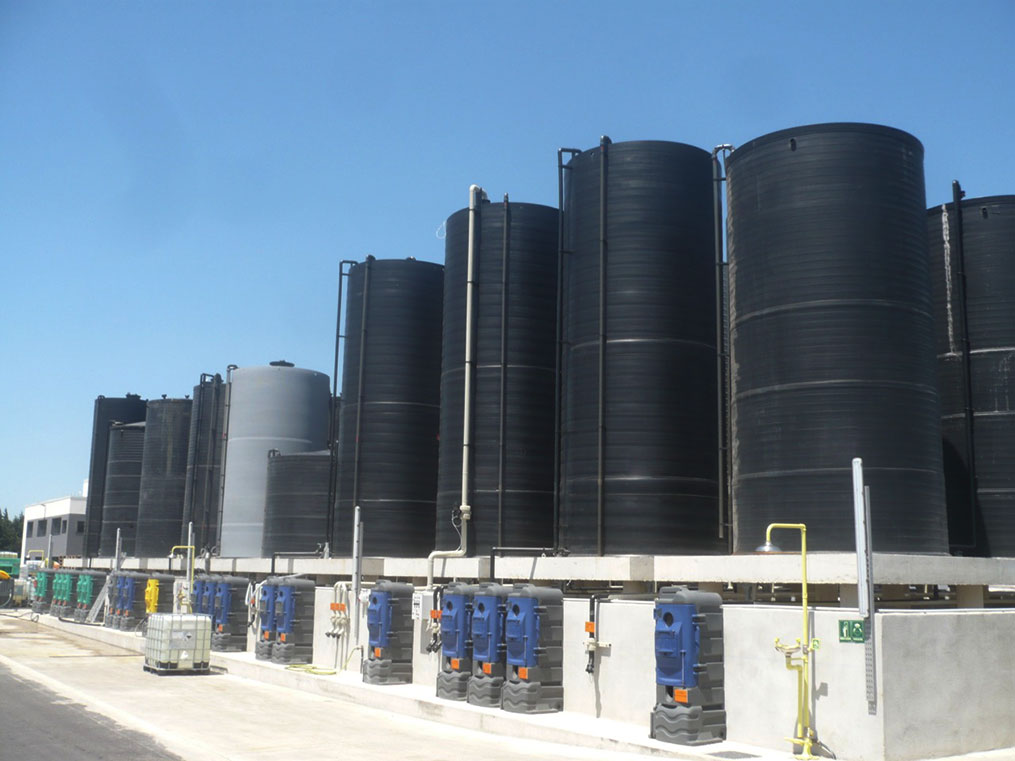 The 20 most commonly stored products
Hydrochloric acid
Citric acid
Nitric acid 58-60%
Phosphoric acid 75%
Sulfuric acid <51%
Sulfuric acid <78%
Sulfuric acid 96-98%
Ammonia 24,5%
Sodium bisulphite
Sodium chlorite

Ferric chloride
Sodium hypochlorite <12,5% (48° Chloro.)
Calcium nitrate
Hydrogen peroxide <70%
Caustic potash
Caustic soda 30%
Caustic soda 50%
Alumina sulphate
Urea
Wac-HB (basic aluminium polychlorosulphate…)
Roll-extruded tanks
Technical performance and chemical compatibility
Chemical resistance: the chemical inertness of HDPE (high density polyethylene) and PP (polypropylene) guarantees the reliable storage of corrosive and dangerous chemicals. Following rinsing, a vessel may, for example, store caustic soda followed by hydrochloric acid. They are extremely versatile.
Resistance to UV.
Mechanical resistance: the roll-extrusion process can produce linings with variable thickness along the vertical plane. Thicknesses are specified according to the products being stored. The lining thus produced is both free of internal stress, mechanically homogeneous, isotropic and balanced (no tension-compression). The thickness of the wall can reach up to 120 mm.
Increased safety due to an optional double envelope: the very design of the retention tank guarantees 100% reliable storage. No leakage possible.
Versatility of tanks: each tank can be given a different function through the use of peripheral equipment such as service access and walkways, gas scrubbers, heaters… Many types of equipment and accessories are available, allowing customers to create a complete storage environment.
Guaranteed traceability of materials used.
Significant thermal insulation.
Recyclability of material: EELIX tanks are 100% recyclable, even after 30 years of use. The materials used are perfectly suited to a circular economy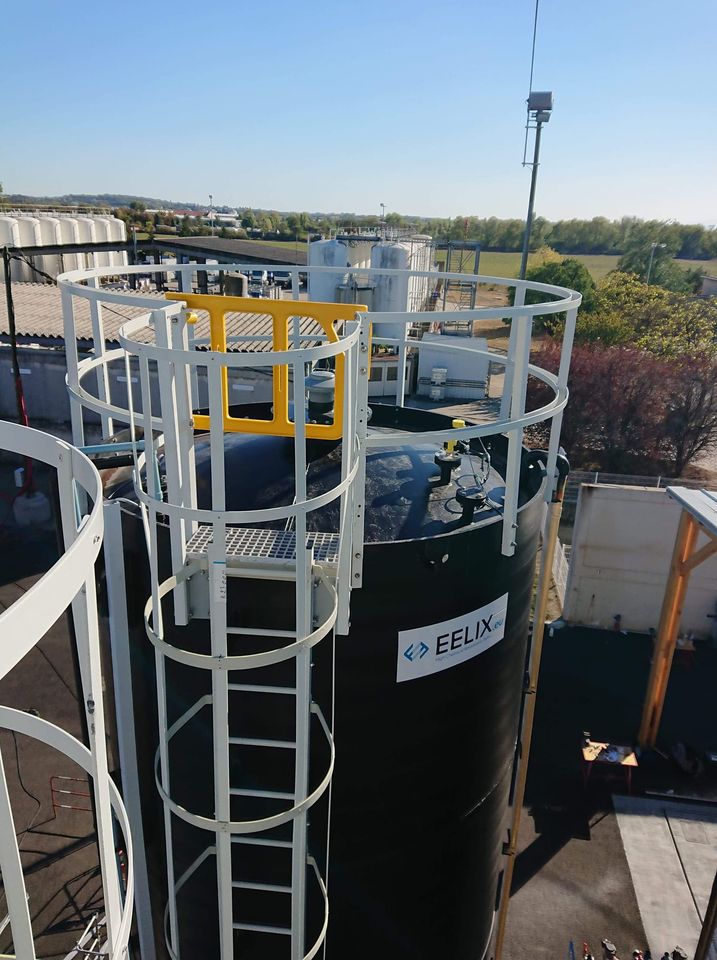 Roll-extruded tanks
Configuring your tank
Materials selection
According to product being stored  and storage temperature.
Opposite: HDPE (-45° to +45°C – black)
PP (-10° to +90°C – beige).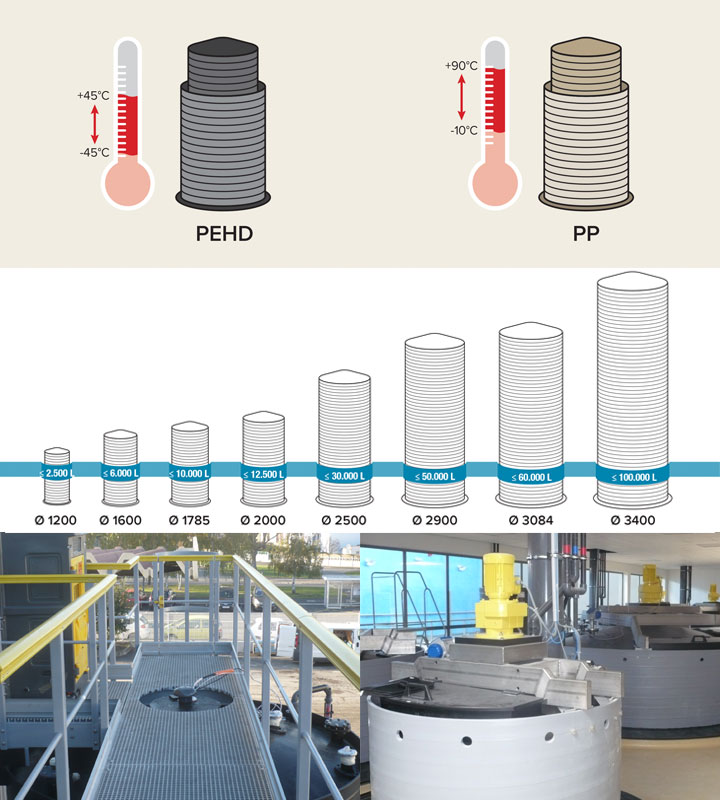 Series selection
The tanks are compliant with EN 12573-2 based on the nature of the product being stored with respect to concentration, density and corrosion factor (A2K).
CHEMICAL series: density ≤ 1.4
HEAVY series: density ≥ 1.4
OXIDISING series: bleach and hydrogen peroxide
SPECIAL series: concentrated sulfuric acid or nitric acid
Retention
With retention for increased safety or without retention.
Selection of dimension
From 2,000 L to 100,000 L
8 internal diameters from Ø 1,200 mm to 3,400 mm
Cylindrical heights are indicative; any intermediate height can be produced by request.
Selection of accessories
Main accessories

Service access and walkways

Gas scrubbers

Heaters

Agitators

Additional accessories: manholes, taps, filling tubes, belts and straps, safety bungs, rain clip, valves, level measurement, mounting brackets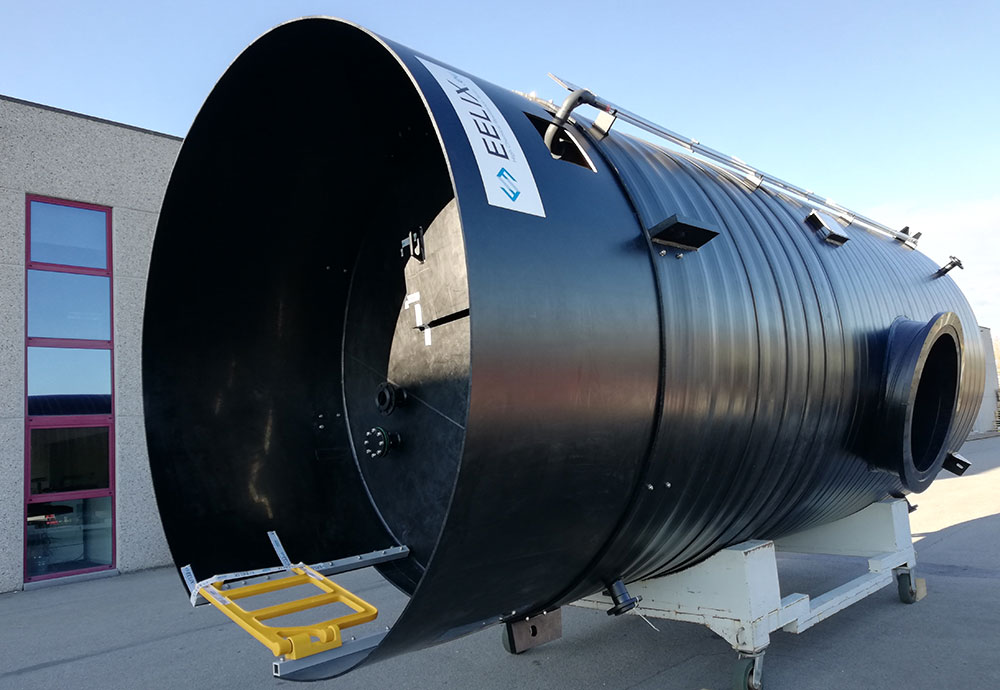 EELIX
Do you want to anticipate risks and design an optimal solution ?