Vertical tanks
 For chemicals and corrosives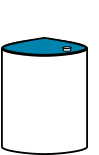 Tanks for low-concentration liquids
Single lined tanks for basic use, low volume or highly diluted or weakly corrosive products.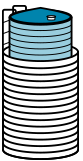 High strength tanks for corrosive products
Highly reliable roll-extruded tanks for complex and sensitive use. These tanks are available in single and double lined formats, for medium to very large volumes.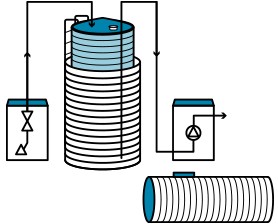 Complete installations
Turnkey solutions tailored to your specific requirements. These comprehensive, personalized systems may include roll extruded storage tanks with or without double lining, filling and unloading trays, dosing pumps, and rain and rinse water recovery reservoirs.
PEHD & PP tanks
The leading storage solutions for corrosive liquids
Discover high resistance tanks , manufactured by extrusion-winding
Workflow
A comprehensive range inherited from Schoeller-Allibert
All the techniques developed by the renowned manufacturer Schoeller-Allibert have been redeployed by Eelix, modernised and implemented within an updated workflow. Within this range, you will still find the famous roll-extruded tanks, but also tanks manufactured from rounded sheet, full installations and a full range of useful accessories.
EELIX // High strength tanks
Schoeller-Allibert extrusion-winding technology
At the heart of Europe
We are active throughout France, the Netherlands, Germany, Italy, Spain and the North European countries from our site in Belgium, which extends to over 25,000 m2.
At the heart of a large group
We are a Franco-Belgian, independent company within a large group, which guarantees both strength and longevity.
At the heart of the industry
Eelix is built on exclusive technologies and modern processes, making it the specialist in tanks and reservoirs for corrosive products.